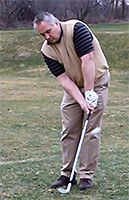 After Rory McIlroy won the British Open, he spoke of two words that helped him win. They were "Process" and "Spot." Upon reading this, I felt that these two words are critical for the beginning and intermediate golfer to live by.
So what does Rory mean when he mentions these words?
"With my long shots, I just wanted to stick to my process and stick to making good decisions, making good swings," he said. "The process of making a good swing, if I had any sort of little swing thoughts, just keeping that so I wasn't thinking about the end result, basically."
The "spot" was about his putting.
"I was just picking a spot on the green and trying to roll it over my spot," he said. "I wasn't thinking about holing it. I wasn't thinking about what it would mean or how many further clear it would get me. I just wanted to roll that ball over that spot. If that went in, then great. If it didn't, then I'd try it the next hole."
Note that in these quotes, he is focusing on proper execution of the shot and not the end result. In my book Everyday Golfer's Guide to Shooting Lower Scores, I speak about how important it is to stay in the present and focus on each shot, not thinking about what has happened before and not concerning yourself with the end result of a shot but rather just executing the current shot as best you can. And here is a top level golf professional using these concepts to win a major!
I believe these concepts are critical for the everyday golfer to take to heart! As amateurs we tend to consume ourselves with thoughts about end results, score, and how well or how poorly we are playing. But golf is a game where it is critical to stay in the moment when executing the shot and make the best of that particular moment. Every golf shot is separate from all others and requires the utmost attention to proper execution…nothing else.
So the next time you are on the course, put Rory's words to use and forget about the end result. One shot at a time…execute as best you can and just deal with the end result as is comes.
Mick Gyure is the author of "Everyday Golfer's Guide to Shooting Lower Scores." A book to help the everyday golfer improve their golf game. For more information, visit www.everydaygolfersguide.com