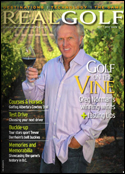 Real Golf Magazine
Everyday Golfer's Guide to Shooting Lower Scores was featured in the Shotgun Start section of Real Golf magazine.
"In this easy-to-read title Mick Gyure maps out, simply but effectively, how an average golfer can transform him or herself into a half-decent player.
Gyure didn't start playing golf until he was in his mid-30s and spent several frustrating years trying to improve, overwhelmed by the mass of new equipment, instructional videos, and reading material on the market. He was initially unable to break 100.
However, inspired by Ben Hogan's claim that the average player should be able to regularly shoot in the 70s, Gyure defined clear objectives for himself and then resolutely focused on achieving them.
The book has no reference to the technical side of the game; the author leaves that to the experts. But he charts the course and plan for improvement that elevated him from a guy who couldn't break a century, to one that regularly goes sub-80.
Centring on five key objectives, related to commitment, knowledge, practice, course focus and physical fitness, Gyure has produced an engaging blueprint for improvement that the average golfer – and those either side of that category – will be able to relate to."


---
RV Life Magazine
The 19th Hole: Everyday Golfer's Guide Could Improve Your Game
"If you are desperate to improve your golf game – or simply want to get better – Mick Gyure's book offers sound advice. "Every Golfer's Guide to Shooting Lower Scores" (I learned to break 80 – you can too!) is written by a below average golfer who decided to enjoy the game of golf by improving his skills.
Gyure developed a program that can help other frustrated golfers in their quest for improvement. He packs a lot of information into the 151-page book. Through a series of five specific objectives, you will learn why you haven't made progress in the past, how to make true improvements in your game, and how to overcome common barriers to getting lasting results."


---
Brattleboro Reformer, VT
Everyday Golfer's Guide to Shooting Lower Scores was featured in the Father's Day Project: Build New Book Shelf section.
"There's something admirable about Mick Gyure's self-published Everyday Golfer's Guide to Shooting Lower Scores since Gyure is himself a regular guy-not a teacher, pro, or otherworldly guru-who took up the game in his mid-thirties and naturally quickly found it driving him batty.
But as his subtitle suggests-I Learned to Break 80-You Can Too!-he improved quite a bit from regularly shooting over 100, sometimes over 130. His initial inspiration? Hogan's Five Lessons, wherein the master said he saw no reason why an average player couldn't regularly shoot in the 70s. In 18 months time, that's exactly what Gyure was doing, and what he presents as his credentials for writing the book."


---
Where to Play Golf Radio Show
Mick Gyure was interviewed about Everyday Golfer's Guide to Shooting Lower Scores on Michael Stewart's Where to Play Golf Radio Show.
Click To Listen »