Everyday Golfer's Guide to Shooting Lower Scores
By Mick Gyure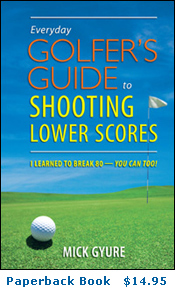 Everyday Golfer's Guide to Shooting Lower Scores will help you create your own practical approach to the game. Through a series of specific objectives, you'll learn why you haven't made progress in the past, how to make true improvements in your game, and how to overcome common barriers to achieve lasting results.
Lower your scores fast by learning from someone who's been there. Everyday Golfer's Guide to Shooting Lower Scores gives you an action plan to:
Obtain information that applies specifically to YOU
Avoid pitfalls that slow your progress
Make your practice time count
Think effectively on the course
Prioritize goals for each level of your game
Relax and actually enjoy the game of golf
Win more rounds!
Stop wasting time on common mistakes made in practice and on the course! Let this book show you how to quickly and effectively improve your game. Through five, easy-to-follow objectives, Everyday Golfer's Guide will help you enhance your focus and make a complex game a lot less so. You'll wish you'd learned these things when you started playing golf. But it's never too late. Get started now, and lower your scores!
Who is This Book For?
This book is primarily for two types of golfers.
First, it is for the beginning golfer—someone who has just picked up the game and wants to improve as quickly as possible. If you're a beginning golfer, this book will help you avoid many of the common mistakes people make when starting out. It will help get you on the right track toward making real progress as well as provide you with an overall plan for improvement.
Second, this book is for golfers who have been playing for a while—those who play regularly but continually shoot high scores never making any real progress. If you fall into this category, you probably spend a good deal of time practicing, yet can't understand why you're not improving.
Whichever category you fall into, this book will help you identify realistic goals and expectations for each level of your game and formulate a plan of action so you can achieve those goals. It will help put the golf learning process into perspective so you can learn effectively while minimizing frustration.
Not Another Swing Instruction Book
It is important to note that this is not a book on mechanical golf instruction. Rather, this book discusses how to best acquire the knowledge necessary to improve your game, how to properly apply that knowledge, and how to practice correctly. It explains what you should be doing on the course, offers guidelines to help you define a plan for improvement, and shows how to commit to that plan so you can realize your goals. This book is about charting the proper course for improving your game and taking the right course of action to ensure that this improvement is attained.
Written By Someone Who's Been There!
Mick Gyure was an everyday guy who started playing golf in his mid-thirties. Like most novices, initially he struggled to improve his game. Ultimately, he found a number of things that allowed him to achieve his goals quickly—specifically, breaking 80!
Like many golfers who can't seem to improve their game no matter what they try Mick has been there and understands the challenges they face. He offers this book as a template to his fellow golfers, who may be struggling as he once did, to improve their game.
Product Details

Paperback Book: 160 pages
Language: English
Item Code: PLBK011
Publisher: PL Motivations, Inc.
Price: $14.95
ISBN: 978-0-615-22208-0
Dimensions: 8.5 x 5.5 inches
Copyright: 2009